Our Values


First Ray is about...
People and values. We are passionate about promoting health and wellbeing, respecting others, promoting equality in our world and very importantly caring for our environment and planet. Our vision is to make great organic, ethical and sustainable food available to all Australians.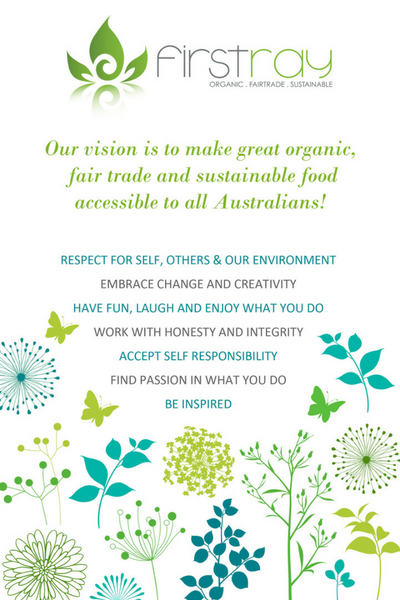 We believe...
that our values can be reflected in the organic, biodynamic, fair trade and sustainable products that we promote. At First Ray we choose products that are a mirror of our own personal values and our hopes for the future.
Our goal is...
to simply change the world by inspiring more conscious food and lifestyle choices. We believe in the evolution of people, that everything is interconnected, laughing lots, enjoying quiet moments and discovering the magic in everday (or at least making it happen).
What's In a Name…
We often get asked questions about where the First Ray name came from and what it means. For those of you that are curious here's a little insight...
In the same way that there are seven colours in our colour spectrum and seven notes in an octave of music, so there are said to be Seven Rays of energies that make up our Universal Cosmos. Each Ray has unique energetic qualities that represent different eras of humanity's development.
The First Ray represents Will, Power and Purpose.
Positivity and leadership are its core qualities, as it carries great strength in breaking down the old and the regeneration of the new. We felt that these energies represented what we needed and hoped to achieve through our business and so First Ray was born. The First Ray name is a constant reminder to us of the energies we draw on and hope to share with others.