Freight & Shipping


At First Ray we dispatch orders daily using Couriers Please and TNT.
Orders received before 12:00pm on a business day are usually dispatched from our warehouse same day whilst orders received after 12:00pm will be sent the next business day.
Shipping time will then be an additional 1-5 business days depending on where you are located in Australia. Here's a quick guide for your reference:
Metro Melbourne / Sydney / Adelaide – 1 day

Regional Victoria, New South Wales, South Australia – 2 days

Brisbane & Gold Coast – 3 days

Regional Queensland, Perth, Tasmania, Darwin – 5 days
If you have ordered online, you will receive an email the day we dispatch. This email will contain your tracking number, so you can check on updates as your order makes it way to you.
All deliveries do require a signature on delivery.
Free or Low Cost Shipping!
We are happy to send your order to you freight free if it meets a minimum order value and is within one of our free shipping zones. Please check your freight free threshold on the map below*.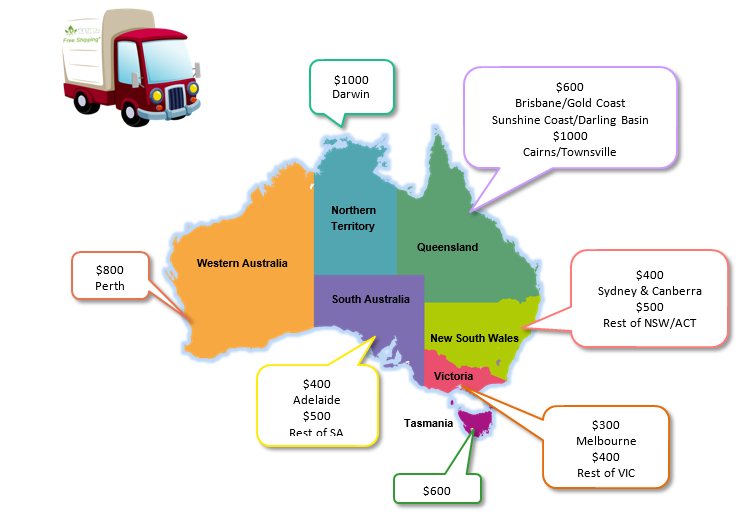 Freight costs for orders below the freight free threshold*

Now for some technical stuff
Please note we cannot accept "out of stock" lines towards the total value of your freight free threshold.
In the organic world products are often seasonal or temporarily out of production due to various reasons. These factors are often beyond our control.

Where possible we will advise you of any out of stocks so that you can top up your order to receive free freight however if this is something that is important to you, please note this on your order and will we definitely stay in touch.

Remote Delivery or other surcharges passed on by the freight company may be payable by the customer.
* Freight charges may vary to the above table for various reasons, one being software limitation with postcodes, or outdated information. Whilst we endevour to have the correct freight information from time to time this does get outdated until we update it. For some regional area's there may be a shipping cost added to your order. You will see this on check out.