RECIPE: Vegan Carrot Cake With Lemon Buttercream Icing
Date Posted:13 April 2023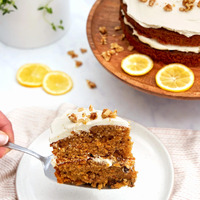 We know it can be difficult getting our daily recommended intake of vegies (especially into the tummies of little humans), so why not package it up in something delicious that you'll need to stop yourself from devouring? Try this vegan carrot cake with lemon buttercream icing, we promise you'll be coming back for more!

For the carrot cake:
250g plain flour
1 tsp baking powder
1 tsp bicarbonate of soda
½ tsp salt
2 tsp cinnamon
1 tsp nutmeg
300g light brown sugar
255g carrot, grated
2 tbsp ground flaxseed
6 tbsp hot boiled water
120ml Biona Raw Virgin Coconut Oil
1 tsp vanilla extract
1 tbsp Biona Apple Cider Vinegar
100g walnuts, chopped
100g raisins
For the buttercream icing:
480g icing sugar
112g plant-based butter
1 tsp vanilla extract
1 tsp Biona Apple Cider Vinegar
2-3 tbsp Biona Lemon Juice
For the topping:
Walnuts, chopped


METHOD
Preheat the oven to 180/160C fan. Cut parchment paper into two circles, to line two round 8-inch cake tins. You can do this by placing them on top of the paper, and drawing round them using a pencil.

Spray two 8-inch cake tins with non-stick spray and line the bottoms with the circles of parchment paper.

Sift the flour into a mixing bowl and add the baking powder, bicarbonate of soda, salt, cinnamon and nutmeg. Mix together.

Add the light brown sugar and grated carrot to the mixing bowl.

Prepare the flax eggs by combining the ground flaxseed with the hot water in a small bowl. Let it sit for a minute to become gloopy.

Add the flax eggs, coconut oil, vanilla extract, apple cider vinegar and chopped walnuts to the mixing bowl and mix everything together. If the mixture doesn't come together or it is too dry, then leave it for 2 minutes before returning. The carrots will have released more moisture into the batter. allowing it to thicken.

Divide the batter evenly between the two prepared cake tins.

Bake for 30 minutes or until a toothpick inserted into the centre of one of the cakes comes out clean.

Allow the cakes to cool in the tin for 5 minutes before transferring them to a wire cooling rack to cool completely.

Meanwhile, create the buttercream icing. Add the icing sugar, vegan butter, vanilla extract, apple cider vinegar and 2 tbsp lemon juice to a bowl, and whisk until the icing is thick and smooth. If the icing is too thick, add in the extra tablespoon of lemon juice.

Ice one of the cake halves, then place the other half on top. Ice the top of the cake and decorate with chopped walnuts. Slice and share with friends and family - perfect for any special occasion!
Shop the entire Biona range on First Ray right now. Simply sign into your wholesale account to start ordering. And if you don't have a First Ray wholesale account, that's no problemo at all. You can sign up for an account right here – it only takes a few minutes and you'll have access to all our products at wholesale prices.

If you make this recipe at home, we'd love to know how it went!